1959 to 1983 - in the beginning...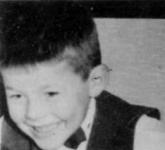 Morten Harket was born on 14 September 1959 in Kongsberg, Norway. He has one older brother called Gunvald, two younger brothers, Håkon and Kjetil ,and a younger sister called Ingunn. Pål Gamst-Waaktaar was born on 6 September 1961 in Tonsenhagen, Oslo, Norway. When he was one year old he moved to Manglerud in Oslo which was the same place as his friend to be Magne (Mags) Furuholmen was born, on 1 November 1962. Pål has just one sister called Tonje, whilst Mags has a sister called Line, and two half brothers, Thorstein and Trygve.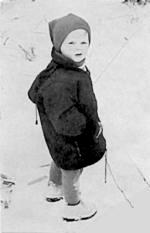 Mags and Pål grew up together in Oslo. They were in a couple of bands together, one called "Spider Empire" and then in 1976 one called "Bridges", which they formed along with bassist Viggo Andreas Bondi and drummer Erik Haglien, who was quickly replaced by Øystein Jevanord. On 27 May 1977, "Bridges" played their first concert at the Oslo Club "Chateau Neuf".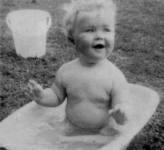 In 1980, "Bridges" recorded their first self financed album titled "Fakkeltog" (Torchlight Procession) which was only available in Norway on their own "Vakenatt" label and limited to 1000 copies. During the year, Bridges took part in the NM (Norgesmesterskap) of Rock, but they did not win. Bridges made a second album "Poem", but it was never released.
Morten saw "Bridges" perform at his school in Asker and became very interested in them. After another of their gigs at the "Chateau Neuf" concert Hall, Oslo, he contacted Mags. Morten had been in a few bands himself, these being "Mercy" and "Laelia Anceps", however neither of them were very successful. Another band that Morten was in was a soul/blues band, "Souldier Blue" (led by Arild Fetveit) he had his first gig with them in February 1982.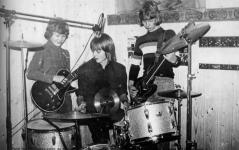 It was in the Spring of 1982 that Pål and Mags took their first trip to England in the hope of breaking the barriers of the music industry, however Viggo and Øystein weren't interested in joining them, so "Bridges" broke up. Confidently, they went to England with one way tickets!
Between them, Pål and Mags figured that they could play the instruments themselves, but they needed a singer. Having contacted Morten about joining them and him not being ready to make the move to England and being happy in "Souldier Blue", they went to England alone.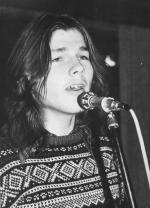 In England they advertised for musicians to join them, the only person to join for a short time was a harpist. Their time in England was tough, Magne had to work in a pub for 10 NOK per hour to finance them while Pål stayed at home writing songs. The trip didn't end up being the success it was supposed to be and after almost 6 months, due to lack money they had to return to Norway; by means of hitch hiking.
Before they returned to England, they decided it to practice more and record some demo's. In the summer of 1982, they shut themselves away in Pål's parents cabin in Nærsnes, Asker and set about writing and recording some songs. They also got back in touch with Morten and this time he agreed to join them. On Morten's birthday, 14 September 1982, Pål and Mags visited Morten to welcome him as the new singer in the band.
During their practice session, they recorded nine demo songs to take to London. One of them was called "The Sphinx" (later "Train Of Thought"). Also at this time, "Living a boys adventure tale" and "Lesson One" (which later became "Take On Me" - the song that launched Morten, Mags and Pål into the music charts world-wide) was written. Another song "Så Blåser Det På Jorden" ("Blowing On The Earth"), was written but wasn't published. They stayed in their 'recording studio' for several months until it got very cold, but by then they were all ready for the move back to London.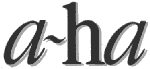 On 2 January 1983 Morten and Pål left Oslo for London, Mags stayed behind for a week to be with his girlfriend (now wife) Heidi Rydjord. It's at this point that Morten, Mags and Pål became "a-ha", this name was chosen as the band wanted a name which would be understood in all languages; they came across the word "a-ha" when looking through Pål's note book and it seemed to fit the bill.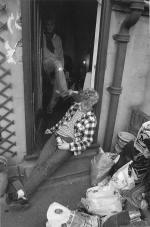 a-ha spent the first few months looking for a record company. The first company they went to see was "Decca"; although they were turned down, they weren't too disalusioned as "The Beatles" were also turned down by Decca once upon a time! The first company that a-ha signed to was "Lionheart", this contract didn't last very long as it wasn't very successful.
a-ha were having a very difficult time indeed, living in a very small and inadequate flat in London and having no money, so they tried to sponge off other people. Morten, for example, lived for a few days with Steve Strange! Eventually they had to take a break and go back to Norway to earn some more money. Morten teamed up again with Arild Fetveit, whom he had known from school, and formed a band called "Sporty Morty And The Houserockers", they played just one live concert together.
In the Spring of 1983, a-ha returned to London to try once again. After looking at adverts in papers, on 1 April 1983 a-ha went into John Ratcliff's "Rendezvous Studio" to record their songs. Although they had only managed to record two songs (these turned out to be two which weren't published, one of which was "Dot the i") and their intentions were to record five, John Ratcliff liked what he heard and introduced them to Terry Slater (an ex-bass player with the Everly Brothers).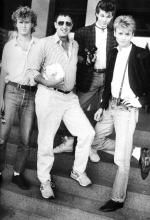 Although Terry was impressed by the songs they had, he wanted to hear more. a-ha were given a week and when Terry heard the other songs they had come up with, "a-ha" had got themselves a manager!
After countless sessions for various record companies, a-ha finally got a record deal and signed up with Warner Brothers in December 1983. They give their very first press conference on 4 December announcing that they have a record deal.
a-ha's searching was far from over, they still had to find themselves a producer. Tony Mansfield was the first to work with a-ha and later they worked with Alan Tarney, which proved more successful. The ride from here was not a smooth one-it is from here that the "a-ha Diary" continues the story...